Welcome to the Staveley Directory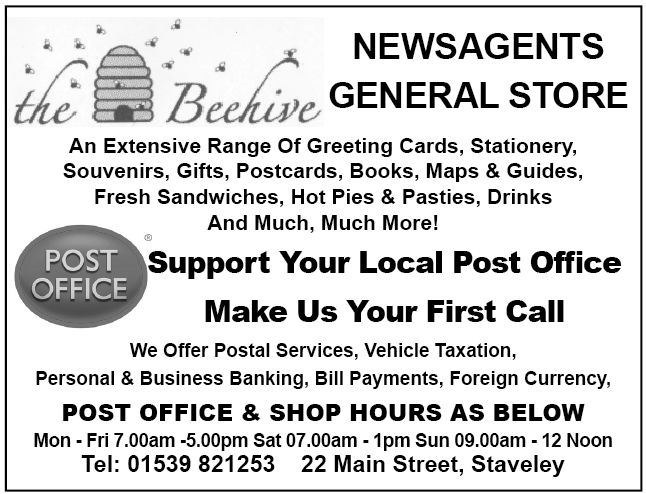 Welcome to the online Staveley Directory published by A2A Advertising, A2A publish a local directory that is delivered door to door in this
area annually, welcome to the online version. If you would like to advertise on this site with a listing or a page or on our printed directory please call us on 015395 64486.
Staveley is situated off the A591 between Kendal and Windermere and has been said to be the Gateway to the Lakes. It mainly comprises grey slate buildings which are nestled between the Rivers Kent and Gowan. This once forested area was grazed as early as 4000BC. Iron Age farmers settled first and were followed by the English and Scandinavians.

Suffering its share of problems during medieval times, the village continued to grow. It gained a market charter in 1329 and began holding annual fairs and weekly markets. In 1341 a fulling mill operated in the village.

St Margaret's Church was built in 1388. Only its tower remains. St James took its place in 1865 and shows off a stained glass east window designed by Sir Edward Burne-Jones and made by William Morris and Co. A Primitive Methodist Chapel was erected in 1834 and a Wesleyan one in 1836.
A2A
A2A Internet provides web design, domain name registration, web hosting services and ecommerce. A2A specialises in content management websites and has published nearly four hundred web sites using a system that allows the client to update pages themselves and for their websites to have as many pages as they require.

A2A is a small business based in Milnthorpe, Cumbria, and we have clients nationally, and our clients stay with us for years - because we give advice based on experience, we are established, and our prices are fair.
To have your own advert on the Staveley directory online contact Andrew or Becci on 015395 64486.